The Scientific Background
At the time the basic ideas behind Annie were created in 2018, I was a first-year student in the Doctoral Programme in Psychology, Learning and Communication at…
At the time the basic ideas behind Annie were created in 2018, I was a first-year student in the Doctoral Programme in Psychology, Learning and Communication at the University of Helsinki. Already in my Master's Degree, I had explored the intersection of technology, pedagogy, and psychology – my Master's thesis was on video-based recognition of students' emotions during problem-solving. In my Ph.D. I wanted to go further – how could modern technology be used to support students' self-regulatory processes?
We hypothesize that when support opportunities are proactively presented to all students by a chatbot, soliciting help becomes cognitively easier, socially more acceptable, and simply more convenient.
About the Author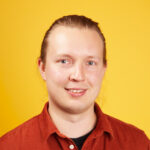 Joonas Merikko is responsible for the research and development activities at Annie Advisor. He has 10 years of experience in developing and using data-intensive technologies in educational organizations. Joonas is currently finishing his Ph.D. on technology-enhanced self-regulation of learning at the University of Helsinki, Faculty of Educational Sciences.
About Annie
Annie the Support Bot offers students the right kind of support at the right time and lowers the threshold for seeking and receiving help. Annie directs students to the support services they need and monitors the implementation of support measures.